UK swingers at e-Swinging.com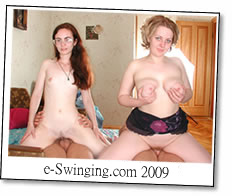 This site is a swingers site mainly for UK adults to find other like minded individuals into the swinging scene. As this site is of an adult nature and contains personal adverts of swingers it is necessary to be over the age of 18 years to enter. Please don't break the law!
We recognize that all human beings have the need to interact. Our history is filled with elaborate courting rituals and traditions. While our society may have changed, our need to be social and to connect with each other hasn't. That's why E-Swinging was created. E-Swinging is part of a greater network, thousands of web sites that are pulled together to form one great network with literally hundreds of thousands of members and thousands of single men, couples and women joining daily.
Why and how do people get into the swinging lifestyle? It's an interesting question because almost everybody has at least imagined swapping their mate with another couple whether they do it or not. Swinging is defined as a sexual activity outside of the relationship that a couple has.
E-Swinging gives singles and couples the chance to click effectively with many people in a safe and entertaining environment. We recognize the complexity of meeting others in our fast paced modern society and dedicate ourselves to providing solutions. Our customers have the control to choose when and how they want to click - for any kind of connection, whether it is friendship, dating or relationships.
Click below to enter E - Swinging.com, join the thousands of other UK Swingers and search through the thousands of personal ads all over the UK.